Ticket displayed as cancelled in the wallet
In rare cases it may happen that the Mobile Tickets are displayed as cancelled in the wallet, but the order is active in the See Tickets account.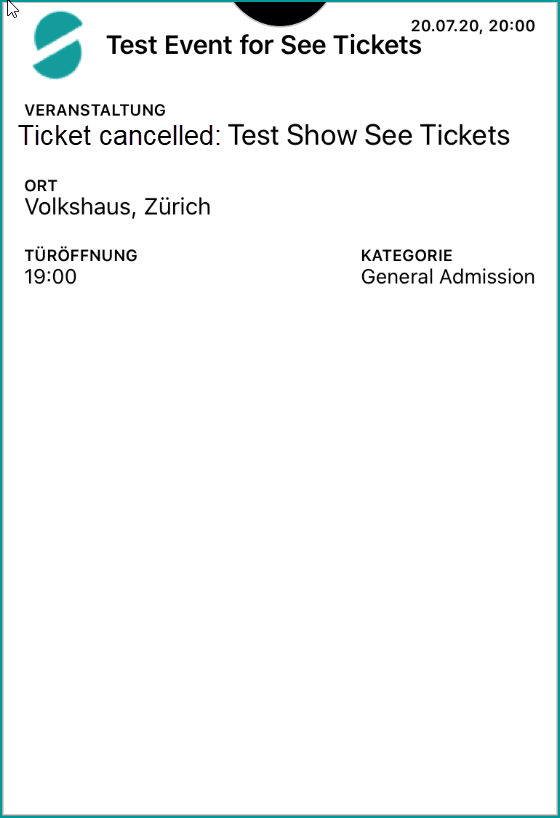 This is only a display error. The order is still valid. If such a visual error occurs, please send an e-mail to ticketing@seetickets.ch immediately.
Important: We make every effort to process all inquiries as quickly as possible. If you have not received an answer from us shortly before the event, please print out the tickets and present them at the entrance. Since the order itself is valid, there will be no refund.
Related Articles

Ticket protection

Ticket protection from Allianz Assistance refunds the cost of tickets you have bought should you suffer from an accident, illness, etc. You are also covered against theft at the event. Download GTC If you are unable to attend an event due to an ...

Transfer to third parties

Non-personalized ticket This ticket is transferable and can be given to a third party. Personalized ticket Only the person mentioned on the ticket gets admission.

General Business Conditions (GBC)

1 General 1.1 See Tickets AG ("See Tickets") operates a ticket sales organization including the website and a call centre. See Tickets les a direct conclusion of a contract between the customer and the respective organiser via its sales platforms. ...

Cancellation and refund

The respective organizer decides on the refund modalities. As soon as the event concerned is officially cancelled, we will send you an e-mail containing information about the further procedure and the refund process. Furthermore, all information will ...

Official Retailers

Official retailers (charges per ticket) from to per ticket CHF 20.00 CHF 1.00 CHF 20.05 CHF 30.00 CHF 2.00 CHF 30.05 CHF 50.00 CHF 3.00 CHF 50.05 CHF 80.00 CHF 4.00 over CHF 80.00 CHF 5.00 These charges fully remain at the point of sale. Official ...